September 4, 2018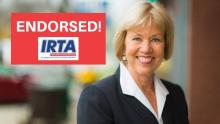 State Senator Julie Morrison received the endorsement of the Illinois Retired Teachers Association for her commitment to support retired teachers in Illinois and securing its members' benefits.
"Educators play a vital role in shaping a student's life," Senator Morrison said. "In my next term as State Senator, I plan to continue advocating for the resources to support teachers and educational resources for our students."
"Senator Morrison has a proven track record of supporting retired teachers," said Roger Hampton, Chairman of the IRTAPAC Board. "This election is important for our membership. We have fought to keep our pensions intact, next, we may be fighting for our health care and we need members of the General Assembly who will support our membership. For that reason, as well as Senator Morrison's willingness to engage our local members, the IRTA is proud to endorse Julie Morrison for Illinois State Senator."
The Illinois Retired Teachers Association works on behalf of over 38,000 members to maintain and improve benefits for annuitants of the Teachers' Retirement System; promote education and the professional, social and economic status of all members; and work in cooperation with other organizations to obtain these goals.