August 9, 2018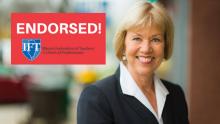 State Senator Julie Morrison (D-Deerfield) received the endorsement of the Illinois Federation of Teachers for her commitment to supporting unions and protecting workers' rights.
"Strong unions are so important because they help create stronger communities. IFT has done a tremendous job advocating for its members and reducing inequalities faced in the workplace," Senator Morrison said.
Senator Morrison recognizes the benefit of strong unions and has worked with the union coalition to make sure Illinois employees are getting the support they need. She is honored to receive this endorsement.
The Illinois Federation of Teachers represents represents 103,000 teachers and paraprofessionals in school districts, faculty and staff at community colleges and universities, public employees and retirees throughout Illinois. The mission of IFT includes: fair and equal funding for education and public services; economic and social justice in communities; a powerful voice in the workplace.
#####

About State Senator Julie Morrison: Julie Morrison is running for State Senate in the 29th Legislative District. Morrison has served as State Senator for the 29th District since 2012. In the Senate, Morrison has focused on legislation to protect children, the rights of people with developmental disabilities and issues involving ethics and good government.