August 22, 2018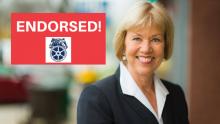 State Senator Julie Morrison (D-Deerfield) received the endorsement of Teamsters Joint Council 25 for her support of workers' rights and addressing issues that affect working families in Illinois.
"It is so important to have organizations like Teamsters that advocate for the wellbeing of their members," Senator Morrison said. "Teamsters has made significant efforts in the labor movement and continues to be a voice for hardworking men and women in Illinois."
Senator Morrison is a dedicated proponent for labor unions and has worked with the union coalition to make sure Illinois employees are getting the support they need. She is honored to receive this endorsement.
Teamsters Joint Council 25 was founded in 1911 and currently represents more than 100,000 members in Illinois and Northwest Indiana. Its membership spans a vast range of job industries, from airline pilots to zoo keepers. The history of the organization is a meaningful legacy of empowerment and equality for its members.