August 8, 2018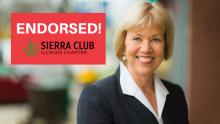 State Senator Julie Morrison (D-Deerfield) received the endorsement of Sierra Club Illinois Chapter for her commitment to protecting the environment and improving outdoor spaces.
"The environment plays a critical role in our lives because it provides so many natural resources that are essential to our health. It is our responsibility to live a more sustainable life to protect our environment," Senator Morrison said. "Even the smallest actions, like recycling or reducing water usage, can make a difference."
Senator Morrison recognizes the benefits of clean energy and is a staunch supporter of implementing effective environmental measures in the community. She is honored to receive this endorsement.
Sierra Club Illinois Chapter was formed over 50 years and is dedicated to protecting our environment through activism, outings, politics and legislation. The organization continues to push toward 100 percent clean energy, deliver clean water and elect leaders that will support its legislative priorities.
#####

About State Senator Julie Morrison: Julie Morrison is running for State Senate in the 29th Legislative District. Morrison has served as State Senator for the 29th District since 2012. In the Senate, Morrison has focused on legislation to protect children, the rights of people with developmental disabilities and issues involving ethics and good government.