August 28, 2018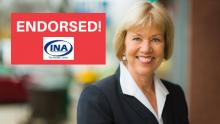 State Senator Julie Morrison (D-Deerfield) received the endorsement of the Illinois Nurses Association (INA) , a leading nursing union in Illinois, for her support of issues affecting professional nurses in the state. Senator Morrison is running for re-election for Illinois State Senate, District 29.
"It's an honor to receive the endorsement of the Illinois Nurses Association," Senator Morrison said. "Our current gubernatorial administration has created a fallacy that cuts to social services are necessary, which has left families and communities without essential resources. Quality healthcare should be a right not a privilege for all Illinoisans."
Senator Morrison is a strong advocate for improved healthcare in Illinois. She supported a bill that INA pushed through the state legislature, which created a Nurses In-House Registry Program at the Illinois Department of Corrections. This allowed access to highly-trained and experienced nurses to provide the high-level health care required to meet the needs and requirements of the Department of Corrections, as well as reduced and/or eliminated the use of mandatory overtime for nurses.
The Illinois Nurses Association was founded in 2010. The mission of the INA is to work for the improvement of health standards and services in Illinois, foster high standards for nurses, promote professional development of nurses, and advance their economic and general welfare.