August 21, 2018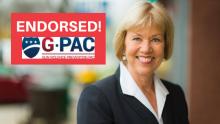 State Senator Julie Morrison (D-Deerfield) received the endorsement of the Gun Violence Prevention Action Committee (G-PAC) for her dedication to keeping families and communities safe from gun violence in Illinois.
"There are many public officials that have turned a blind eye to the current gun violence epidemic, putting politics over public safety," Senator Morrison said. "We must elect political leaders who will keep us safe and combat influence from the gun lobby."
Senator Morrison has introduced and sponsored legislation aimed at protecting families from gun violence, including a ban on assault weapons and taking guns out of the hands of those displaying threatening or unsafe behavior. The Firearms Restraining Order Act, which Senator Morrison sponsored, was signed into law recently. This will allow law enforcement to temporarily confiscate guns from an individual deemed to be a potential threat to themselves or others.
The Gun Violence Prevention Political Action Committee (G-PAC) was founded to challenge the political influence of the gun industry in Springfield. G-PAC provides necessary resources to support and elect public officials with the power to stand up to the gun lobby.